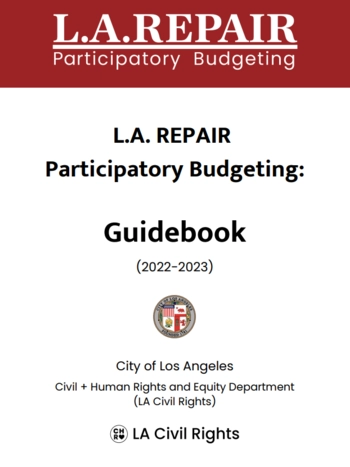 Because participatory budgeting is intended to facilitate community-led decision-making and is adaptable to the circumstances, needs, interests, and visions of specific communities, no two participatory budgeting processes look the same.
To tailor the participatory budgeting process to these local conditions and ambitions a group of residents (referred to as the "steering committee") is typically brought together to "design" the process for each unique cycle. These decisions are brought together in the Guidebook: the document that allows community members, participants, and other stakeholders to get a sense of what the process will look like in practice.
For the 2022-2023 pilot cycle of L.A. REPAIR, a steering committee made of 17 community members representing all of the REPAIR Zones met to design the process.  Their decisions are captured here in the Guidebook and will be used by the advisory committees and partners to implement the program.